Message from HOD – ECE
---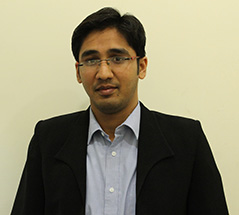 The Department of Electronics and Communication Engineering was established in the year 2003 with B.E (ECE) & an intake of 60 students. The intake was increased to 90 students from the year 2004 and further to 120 from the year 2009. Department of ECE got NBA accredited with effect from 2013. The department also conducts PG programme M.E (Digital Communication) from year 2009-10 with an intake of 18 students. The significant infrastructural design, well-equipped laboratories & hi-tech computers with high-speed internet facility with all qualified staff members ensure world-class standard of education delivered from our department.
Electronics and communication engineering is a dynamic and exciting area that provides excellent career opportunities in various sectors of the society. We are committed to give our students an environment where they develop critical thinking and problem-solving skills as they advance through the programme. In addition to classroom teaching, the students are guided and motivated to practically implement the principles learnt in classrooms through experimentations in the laboratories, different type of Club like ROBOTICS CLUB, Design and Develop Club and ISTE Chapter which help students gain confidence and become skilled engineering professionals. Students are provided internship facility in organizations like BSNL, RRCAT etc. The department conducts various workshops, expert talks and additional training programs on recent trends in Electronics and Communication Engineering in collaboration with industries for the benefit of faculty and students. The student projects are conducted in-house with the guidance of department faculty. The graduates of the Electronics and Communication Stream have been selected by some of the world's leading corporations & as well as by most of the leading Indian counter parts.
The available diversity of expertise of the faculty with the support of the other staff prepares the students to work in global multicultural environment. The notable asset of our department is its highly motivated, technically qualified and well experienced faculty.
Best wishes,
Mr. Ankit Jain
HOD (Electronics & Communication Engineering)